Aurora Highlighted as Russia's Most Reviewed Digital Marketer for 2021
Request a Quote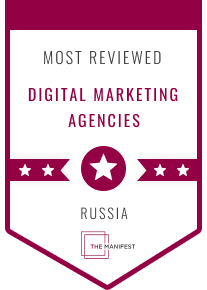 Founded in 2007, Aurora, Russian IT & SEO Company has been helping companies scale their markets. It's been 14 years since we started helping clients venture into the vast digital economy. The eagerness we have to serve remains the same to this day. In light of our clients' support, we're stoked to announce that we've been hailed as Russia's most recommended digital marketing company by The Manifest.
The effort we put into each and every one of our projects is worth it. To give you a better understanding of how much this means for us, here's a quick rundown of our story.
In 2007, Aurora, Russian IT & SEO Company was established on three crucial values — creativity, responsibility, and forward-thinking. We embarked on this journey to be truthful partners to clients worldwide, helping them build relationships with Russian audiences.
We worked hard to bring the best, most fitting solutions to both brands and consumers. Combining our priceless industry experience and creative thinking, we've worked with huge clients like DoorDash, Grid Dynamics, Lucidchart, Digital Element and more.
It's because of their recommendations that we've been recognized during the inaugural The Manifest awards. For those who don't know, The Manifest is an independent B2B news platform that compiles important industry data to help browsers from all over the world.
Following their 2021 research, we've been ranked among the top 15 most recommended and reviewed digital marketing companies in Russia this 2021. Our team was highlighted for its quality solutions, excellent project management, and overall client satisfaction rate.
We couldn't be more proud of this achievement. As a full-fledged service provider, our clients' trust means more than anything to us. Receiving this honor thanks to their support makes it even sweeter.
Have a project in mind? Let's help you get into the digital space. Get a free quote for your project today. Don't hesitate to drop us a line if you have any questions. We look forward to getting to know you.
Back to blog